1963
Official foundation of Otokar
1964
First intercity busses and first frigorific trailers of Turkey manufactured
1966
Toll manufacturing of Land Rover
1968
1969
Manufacturing of minibuses for public transportation
Name change to "Otobüs Karoseri Sanayi ve Turizm İşletmeleri A.Ş."
1976
Otokar becomes a member of Koç Group
1983
First armored money transportation vehicle of Turkey
1984
Name change to "Otokar Otobüs Karoseri Sanayi A.Ş."
1985
Municipality public buses in length of 12 meters
First computer aided design works in automotive industry
1987
Manufacturing of tactical wheeled vehicles under the license of Land Rover Defender
1989
Manufacturing of the first tactical armored wheeled vehicle of Turkey: Otokar APV
1990
Joining of Akrep armored tactical vehicles of the product family
1993
First tactical armored vehicle exportation of Turkey and the "New Export Item Award" from the Under Secretariat of Foreign Trade
1995
1997
Move to the plant in Sakarya; planning for manufacturing of Cobra
1998
Award of contract for 5250 pcs. tactical wheeled vehicles by the Turkish Armed Forces
2002
Merger with İstanbul Fruehauf A.Ş.
The first aluminum tanker semi-trailer with ADR certificate of Turkey
Manufacturing of midi bus Sultan
2003
Manufacturing of the first tanker with ADR certificate of Turkey
2004
Unification of R&D and engineering works of Otokar under the roof of "R&D Center"
First exportation of Sultan brand midi buses
2005
Armored Internal Security Vehicle
2007
Doruk brand medium size bus
The first hybrid bus of Turkey
2008
Selection of Otokar as the main contractor for the National Battle Tank Manufacturing Project
Acquisition of the land and equipment of Otoyol manufacturing plant
2009
KAYA brand Mine Resistant Armored Vehicle
KENT brand 12-meter in-city busses and M2010 minibuses
Awards to Doruk brand medium size bus: Design Turkey Award, Busworld Kortrijk Grand Award
Order of the Under Secretariat of Defense Industry for 861 pcs Tactical Wheeled Vehicles
2010
ARMA brand 6x6 armored combat vehicle and two export orders
The best-selling bus brand of Turkey
2011
Special Jury Award in KENT European Coach Week
ARMA brand 8x8 armored combat vehicle
First model of Altay in actual dimensions
Establishment of Otokar Europe
2012
Opening of Otokar Tank Testing Center
First electric bus of Turkey
Presentation of the first prototype of Altay
Winning the bus procurement tender of the Istanbul Municipality
2013
Manufacturing of Tulpar tracked armoured vehicles.
Manufacturing of Atlas brand trucks
2014
Being named the "Most Successful R&D Centre" in automotive industry, accreditation of Otokar EMC/EMI Test Centre.
ISO 10002 certification for customer satisfaction.
2015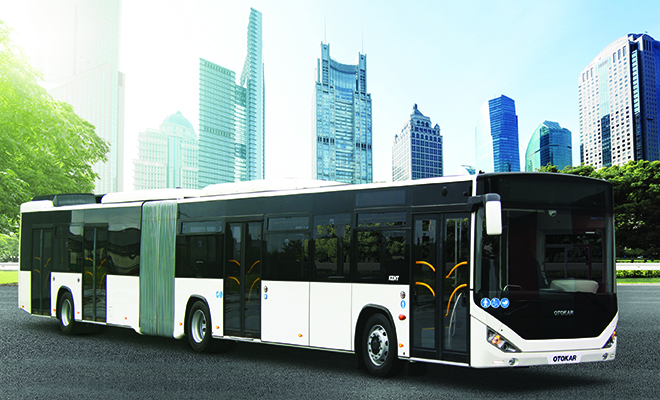 Leader bus brand in Turkey for the sixth censecutive year
Kent Articulated Bus
Tulpar S Tracked Armoured Combat Vehicle
2016
Submiting the offer to SSM for the serial production of Altay Main Battle Tank.
Exporting the technology and licence of Navigo buses. The Smart Bus, developed under the CoMoSeF programme.
Establishing Otokar Land Systems Limited in the United Arab Emirates.
2017
Signing a contract with the United Arab Emirates Armed Forces for the 8x8 armoured vehicles by Al Jasoor, the Joint Venture company of Otokar Land Systems.
Sultan series vehicles updated, Sultan LF added to the city bus range.
Doruk T received a faced lift and was introduced to the European market as Ulyso T.
Tulpar-S personnel carrier variant added to product range.
Activities launched to shift in focus toward Industry 4.0, the fourth industrial revolution.
2018
Serial production of 8x8 armored vehicles started at the Otokar plant and the first batch was delivered.
Otokar signed a deal for 400 buses with the Bucharest Municipality, the largest export deal for a single item by a Turkish bus brand, and started delivering the buses.
Otokar established a company titled Otokar Europe Filiala Bucuresti S.R.L. to manage its export operations in Romania.
Otokar is included in the BIST Sustainability Index for the fourth consecutive time.
With the international Appstacle project, in which Otokar and Koç Sistem participate as project partners, development of a cloud-based smart vehicle app that will become a benchmark in next generation automotive standards is ongoing.
Otokar mobile app developed for commercial vehicle users was also launched.
2019
AKREP IIe Turkey's first Electric Armoured Vehicle added to product range.
Kent Electra, 12-meter full-electric city bus added to the city bus range.
Otokar subsidiary, Otokar Central Asia founded in Kazakhstan.
Delivery of 400 Kent buses to Bucharest Municipality completed.
Otokar is included in the BIST Sustainability Index for the fifth consecutive time.
Otokar continued to be Turkey's most preferred brand in its own segments.
2020
Otokar and IVECO BUS signed production agreement
Otokar won the tender for 304 buses to serve the people of İzmir
First Otokar ARMA 8x8 order from Africa
Otokar's 'Safe Bus' that reduces the infection risk of Covid-19 hit the roads
2021
Otokar won the bus procurement tender for BRT lines in Istanbul
BIG SEE Awards 2021 and European Product Design Award prizes to Territo bus
Manufacturing of COBRA II MRAP and diesel-powered Akrep IId
Delivery of 400 8x8 armored vehicles
Autonomous bus manufacturing
2022
Electric bus family expanded with two new vehicles
German Design Award 2023 prize to Territo U and Big See Award 2022 prizes to e-Kent and the Articulated Kent C BRT version
Receiving "Environment Award" of the "the 28th Şahabettin Bilgisu Environment Awards
Otokar delivered the metrobuses to be put into operation at the bus rapid transit route in Istanbul
Otokar Atlas family expanded in the 12-ton segment with ATLAS 3D
Being deemed worthy of an award in the category of Türkiye's Best Employers in the Great Place To Work 2022 research
Otokar received orders from two operators for a total of 148 buses as part of the framework agreements signed with Consip